I almost forgot to share my new 'toy' with you…of course it's makeup. After months, and months of debating whether or not I wanted to spend $40 on this product, I finally buckled down and purchased the Anastasia Beverly Hills (ABH) Contour Cream Kit. Yes! I know $40 is a lot of money, however, if you register on the ABH website, they will provide you with FREE SHIPPING or a percentage off your purchase.
Don't let the price tag scare you…the Anastasia Beverly Hills Contour Cream Kit is worth every dollar.
Before purchasing this product, highlighting and contouring was not something that I regularly did. I've tried experimenting with different shades of foundation and concealers, however as a chocolate girl, I found it difficult picking the right shades of 'brown' to highlight and contour my face.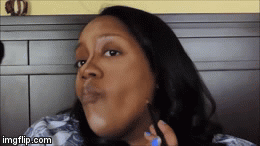 So discovering the ABH Contour Cream Palate was a dream come true — it provides all the 'colors' that I need for an amazing highlight and contour.
Btw…these gifs are from my first try using the Anastasia Beverly Hills Contour Cream Kit. If I look like I had no clue what I was doing, it's because I literally had no clue. Thank goodness the ABH Contour Cream Kit made it easy.
Each ABH Contour Cream Kit comes with six removable panels of creamy color — 3 Highlighting and 3 contouring shades. You can use these shades to accentuate your natural features, as well as use them to correct blemishes or dark spots. This is what I love most about the ABH Contour Cream Kit, everything is laid out for you. You do not need to 'guestimate' which shade of highlight or contour to use. Depending on what look you are going for, you can literally use each shade to achieve an awesome highlight/contour effect. For example, this day I wanted a natural look, so I used the colors "nude" and "chocolate" for a very subtle highlight & contour. Now for my trip to Vegas in a couple months, I might want a look that is a little more extreme. I plan on using the 'full range' of the kit…especially 'carob' to sharpen my features. Watch out Sasha Fierce, I'm coming for ya! 😉 Luckily these creams are easy to build upon, meaning that you can match and blend all the colors together seamlessly.
As mentioned earlier, I am a 'chocolate' girl, so I purchased the Anastasia Beverly Hills Contour Cream Kit in 'Deep'. However, these kits are also available in 'Light' and 'Medium'. You can purchase these kits separately, or as a series = all three kits in one package. Now, although these kits are distinguished by skin tone, you can use all three kits regardless of how light or dark you are. You will see that the kits actually overlap in some of their colors. For example, obviously I will get the most use out of the ABH Contour Cream Kit in 'Deep'. However, there are creams in 'Medium' and 'Light' that I could use as well. In particular, the 'Banana' cream, which I could use for a more dramatic highlight.
With how great this product is, I'm trying really hard to think of a flaw. The only thing I can think of is that (more recently), I've questioned whether the Anastasia Beverly Hills Kit makes me look pale. Then I remember: 1) It's summer, so I'm more sunkissed now than I was when I first purchased the ABH Contour Cream kit. 2) It's not a bronzer. It's great for sharpening my features and defining my look, but if I want a golden glow, I'll have to use something in addition to this kit…a powder maybe?
 This is just the start of my makeup journey in reinventing my look. I know without a doubt that you will love the Anastasia Beverly Hills Contour Cream Kit. Once you try it, let me know! Send me a tweet, or a shoutout on Instagram using #ThePinkCaboodleABH. Can't wait to see how great you guys look 🙂
Until Next Time,
o